The Status Oahu's Yellow Tangs
With the unexpected closure of West Hawaii due to the Hawaiian Environmental Protection Act (HEPA) ruling in 2017, increased demand for Oahu fish was created. Increased catch has raised concerns from our opposition.  Fortunately, Oahu's aquarium fishers and the Dept. of Land and Natural Resources (DLNR) had already considered the need for possible future protection of Oahu's reef fish two years earlier, and were ready.  The 2015 Rules Package laws were designed to proactively prevent possible future over-fishing of many reef fish.  
Click on the following text link to watch amazing epic video of a small portion of Oahu's Yellow Tangs .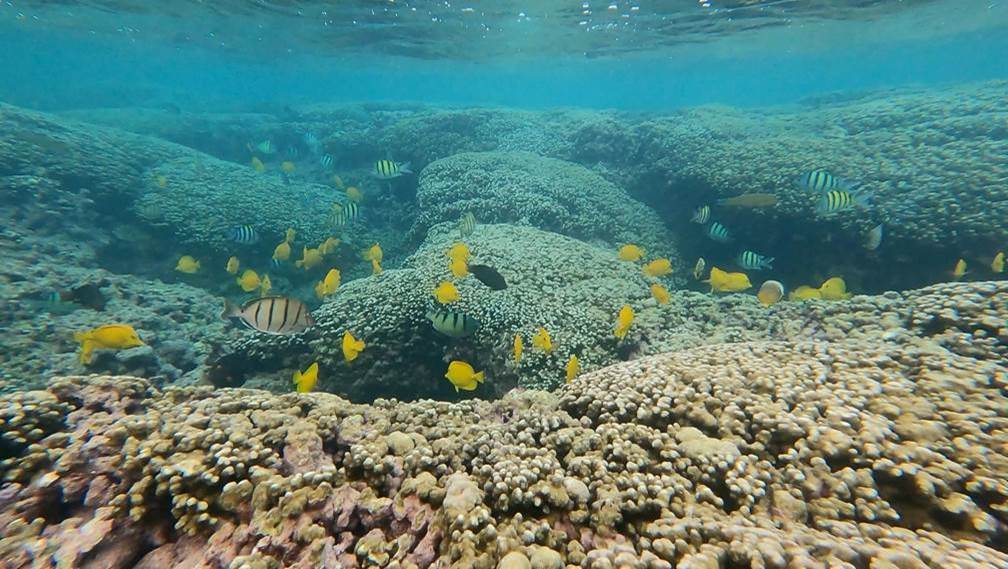 The 2015 Rules Package, initiated by Oahu's aquarium fishers, resulted from their understanding of the importance of a sustainable, healthy fishery and years of cooperation between the fishers and the state.  Researchers commended the fishers for their efforts. 
A state review of the Oahu aquarium fishery in 2015, when hundreds of fisher permits (c. 400) existed, resulted in the DAR's (Department of Aquatic Resources) conclusion that the fishery was stable, and thus sustainable.  This fishery review was done in conjunction with the 2015 Oahu Rules Packagewhere bag and size limits were made for the Oahu fishery. Yellow Tangs on Oahu have a bag limit of 100 yellow tangs with specific restrictions of less than 6 per day for fish 1.5 inches, or over 5 inches long.
The user group who opposes the fishery, continues to claim, "The fishery is unlimited in take."  Clearly, this is not true.  DLNR Chair Suzanne Case, has repeatedly testified before the legislature that the aquarium fishery is not only "Sustainable," but she also has stated it is a "Model Fishery."
Yellow Tangs (Latin name ZEBRASOMA FLAVESCENS) are a reef fish that is not indigenous to Hawaii. They are found in several other Pacific regions. Pacific distribution covers depths ranging from the shallow surge zone to over 200 feet deep. The fact that the fish are found at deeper, cooler depths, decreases the vulnerability of Yellow Tangs to global warming, and to impacts from near shore pollution. Abundant and widely found on nearly every reef in Hawaii, Yellow Tangs were reported by an ex-DLNR Biologist, Bill Walsh article, as having "average" reef fish reproductive abilities.
A scientific review of Yellow Tang population vulnerability made by the world's most comprehensive info. source for global extinction risk -the International Union for Conservation of Nature's Red List of Threatened Species (IUCN Red List)- rated Yellow Tangs at its lowest level – "Least Concern"(source Fish Base).
An extensive thesis study was done in 2007 by Megan Bushnell and included data from Big Island and Oahu fisheries. This study collected and counted Yellow Tang fry eggs and monitored breeding throughout the year. The study is one of the most comprehensive reef fish reproduction studies ever conducted.  Its findings indicated that just one pair of Yellow Tangs can produce 1.14 million fry per year!  Each sampled female produced between 3,000 to 28,000 fry per spawning, with spawning occurring year-round.  Notably, they breed more often in the spring and summer months, with the highest fry counts sampled occurring in November.  Yellow Tangs continuously reproduce. 
Yellow Tang broadcast their fry out to sea, then when the fry mature, they then return onto shallower reefs, about 55 days later.  The survival rate of the fry into an adult breeding size is low, but the overall repopulation ability of Yellow Tangs is staggering.  Yellow Tang can breed when they reach 4 inches long; this occurs in just a few months.  Moreover, Yellow Tangs can live for 40 years or more, and can grow up to 9 inches in length. Larger fish are not targeted by the aquarium trade and big yellow tangs left on reefs are very efficient breeders.
Yellow Tangs prefer deeper corals and rocky structure areas, sleeping inside crevices and corals at night.  Reefs and corals provide protection from predators.  Although hundreds of Yellows can be seen on reefs in the daytime, they seem to disappear at night – hiding, and are rarely seen inside these deep crevices.
Aquarium fishermen can only collect a lower percentage from Yellow Tang schools.  Why?  First, because when approached, they avoid even the most experienced fisherman by quickly hiding into the deep coral structures.  In addition, Yellow Tangs quickly learn where the net is located and avoid it, resulting in every pass to push them towards the net yielding even less catch.  Their natural predatory hiding behavior effectively protects yellow tangs populations from over-collecting.
It has been suggested that we can just use aquaculture to produce marine reef fish and that we do not need wild caught fisheries.  However, Marine Aquaculture is not perfected yet.  Even the Oceanic Institute with a team of researchers and with years of effort offering the best chances for survival, has produced a total of only 300 Yellow Tangs to a marketable size.  This is a very small fraction of what Yellows produce in the wild.  The technology to breed marine reef fish in captivity effectively for profit does not currently exist.
The 2015 West Hawaii report to the legislature results showed an increase in yellow tang populations despite the aquarium fishery take of 400,000 Yellow Tangs a year. The 2015 take was approximately 5.75 %; much lower than the standard – Maximum Sustainable Yield (MSY) of 30%.
With the region of West Hawaii's yellow tang population currently estimated at 3.6 million and the ability of Yellow's to broadcast its fry and breed over wide areas, this fish population is currently increasing and stable.  The fishery could provide millions in much needed state revenues sustainably.
In the past, Oahu has not been as well studied as West Hawaii because its fishery take amounts were much less.  This year, 2020, NOAA estimated the number of Yellow Tangs in the oceans surrounding Oahu from sampled areas.  Aquarium fishers consider the estimate far short of the true Yellow Tang population of Oahu, but that even at this lower estimate, and with the increase in Oahu take, the fishery is still stable and sustainable.
The basis for their assertion is the following:  (1) the NOAA map of sampling sites did not include many reef areas where fishers know Yellows do reside abundantly; (2) the species' natural protective hiding tendencies (3) previous studies of Yellow Tang find their reproductive capacity staggering; (4) the Yellow Tang extinction risk status is one of species of "Least Concern" on the IUCN's Red List;  (5) the 2015 protective Rules Package laws helped to protect the species; (6) DLNR's reviewed the Oahu fishery in 2015 and found it "Stable" when there were approximately 400 permitted fishers.  In  contrast to today's small number (seventeen) of permitted Oahu fishers who are now restricted by a 2 inch net limitation, it's reasonable to conclude that even with the increased catch on Oahu, their catch is still well below the standard of 30% Maximum Sustainable Yield.  (7) 2020 Yellow Tang video from all around Oahu supporting the idea that there are millions of Yellow Tangs on Oahu alone.
Oahu's aquarium fishers value a healthy fishery and understand the importance of sustainability of all species of reef fish, especially the Yellow Tang.
See video link for current 2020 Yellow Tang fish populations views around Oahu.
Sources:
Fish based Website: https://www.fishbase.se/summary/6018
REPRODUCTION OF ZEBRASOMA FLAVESCENS: OOCYTE MATURATION, SPAWNING PATTERNS, AND AN ESTIMATE OF REPRODUCTIVE POTENTIAL FOR FEMALE YELLOW TANG IN HAWAI'I
A THESIS SUBMIITED TO THE GRADUATE DIVISION OF THE UNIVERSITY OF HAWAI'I IN PARTIAL FULFILLMENT OF THE REQUIREMENTS FOR THE DEGREE OF MASTER OF SCIENCE IN ZOOLOGY DECEMBER 2007 By: Megan Bushnell Thesis Committee: James D. Parrish, Chairperson Kathleen S. Cole Charles W. Laidley
https://scholarspace.manoa.hawaii.edu/bitstream/10125/20928/M.S.Q111.H3_4232%20DEC%202007_r.pdf
Complete West Hawaii report link:
http://westhawaiifisherycou.ipower.com/wp-content/uploads/2015/01/WHRFMA-Report-to-Legislature-Jan-2015.pdf
https://dlnr.hawaii.gov/dar/files/2015/04/ch77.pdf
YouTube videos links:
https://www.youtube.com/watch?v=4jbQedD6VPI
Flame Wrasse
Flame Wrasse (Cirrhilabrus Jordani) – Flame wrasse are endemic to Hawaii and are found at deeper ocean depths. This incredibly beautiful fish will never be seen by most people in the world if not for the efforts of the aquarium fisherman. They are found so deep that even recreational scuba divers may never even see one in the wild.
Video link to thousands of flame wrasse in schools.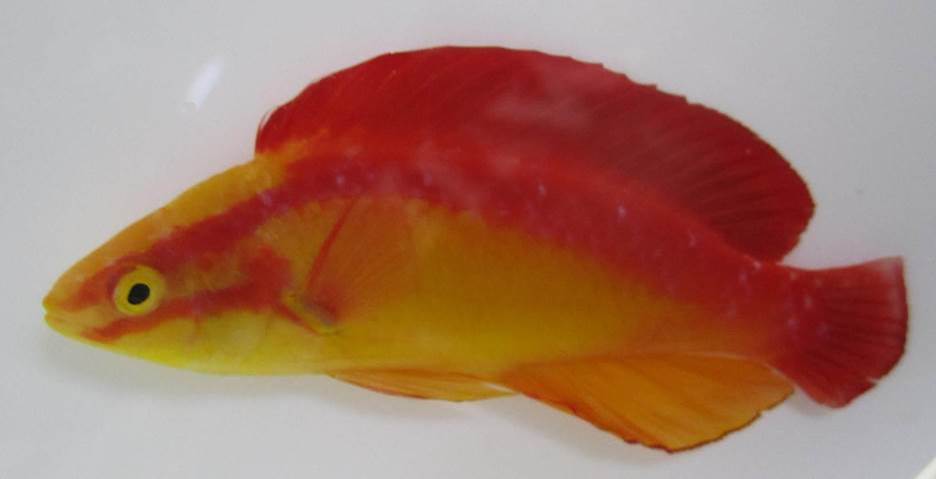 Flame wrasse are collected for research, public aquariums, breeding, education and private aquariums. With difficult supply and increasing prices, many now breed fish in private aquariums and this captive breed population provides an ark of sorts to ensure survival if something decimates natural populations.  All collecting of this fish results in an awareness, understanding and appreciation for the species. Flame wrasse are not listed in the International Union for Conservation of Nature Red List as a threatened species. Flame wrasse are an abundant schooling fish species widespread throughout the Hawaiian archipelago. These wrasse are the most abundant wrasse in Hawaii and have a conservations status of species of "Least Concern."
Flame wrasses are the most abundant wrasse though-out the main Hawaiian Islands, much more than the other abundant wrasses like red pencil, saddle, Christmas, ornate, blue pencil, redtails and numerous others. Many schools, numbering approximately one thousand fish, have been observed and distribution of this wrasse is widespread. Shallower flame wrasse schools may only number as little as (4). One male is usually accompanied by 4 females on average. Collection occurs along this ratio. If males are removed from a small harem, then the largest female becomes a male.
Most large populations occur in deep, 100 to 600 feet deep, sandy or hard bottom flat zones where Halameda sea weeds are abundant. This type of habitat is one of the most widely observed ecosystems around the main Hawaiian Islands. A contributory research website for fish, Fish base indicates Flame Wrasse populations have High resilience, with a population doubling time less than 15 months. Vulnerability is low with rating of only 18 out of 100.  Populations occur from Midway Atoll to the Big Island of Hawaii, with Flame Wrasse also being found at Johnston Atoll. Flame Wrasse inhabit seaward reefs, in aggregations above and at base of drop-offs. They are Benthopelagic, feeding on zooplankton in the water column and hover 1-2 m above the bottom at depths ranges from 16 to 610 feet deep. It is mostly considered a deeper fish species preferring depths of 90 feet or more in habitat areas of deep rice and plate corals.
Coral Reef Ecosystem Program CREP data or NOAA studies may not effectively cover the deeper preferred habitat of Flame Wrasse and other species found in waters beyond the Recreational Dive Limit. So, this video and anecdotal evidence report is to enlighten those wanting to know more about this species especially where collection for aquarium fish purposes is concerned. Due to the flame wrasse being deeper, the State and Federal researchers will find it harder to count this species. Drop cameras and even divers have difficulty approaching flame wrasse before they hide; making counts difficult and many counts lower than actual numbers. For these same reasons though, the flame wrasse are more protected. Also their deeper depths habitat also protectsthem from some global warming changes. Deeper reefs have much cooler temperatures and provide an oasis for fish from global warming.
Warmer ocean temperatures, weather global warming or El Nino have caused many reef fish populations to increase. Flame wrasses are one of those species, meaning that at least for now, they may be immune to small temperature changes.
Run off and pollution can affect corals and fisheries especially in estuaries and bays. Yet because Flame Wrasse are found at deeper depths, dilution of these issues may reduce their effect to Flame Wrasse populations.
Hawaiian historical use and cultural impact considerations for the species is low. It is unlikely that any uses for this species occurred historically for Hawaiians. For it is not of a large enough size to eat, and the depth of the species prevented any near shore catch. Very small hooks were likely not used by Hawaiians. There is no record that past Hawaiian's even knew about this species. No other cultural practices or uses regarding this fish are known.
Sources and further info links:
https://en.wikipedia.org/wiki/Cirrhilabrus_jordani
https://www.marinelifephotography.com/fishes/wrasses/cirrhilabrus-jordani.htm
https://www.itis.gov/servlet/SingleRpt/SingleRpt?search_topic=TSN&search_value=170684#null
https://apnews.com/665da2333e254e4ab21c84e618b06bc0
Videos show tropical fish swarming state's reefs

CORAL Excerpt: "Biblical" Spawning Event on Hawaiian Reefs
Most of Hawaii's coral recover from mass bleaching
Dorsal Color variant flame wrasse not uncommon.